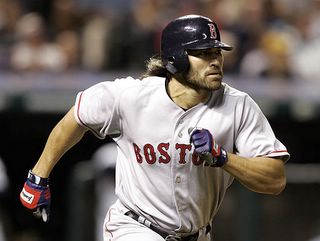 Damon was key last night (AP Photo)
Lot's of stuff going on in life these days so I have let the poor blog go by the wayside a bit. Sorry about that.
In very exciting news I am leaving Yankee Lover town and moving to the DC area! I got a new job at a
theater
in Arlington VA and will be moving on July 5. Even more exciting then that is that on July 7 I am going to see a Orioles/Red Sox game. YEAH!
So the games I missed
BOSTON 10 (39-30) WON 2
CLEVELAND 9 (37-31)
Theo needs to kick some SERIOUS ass when it comes to the bullpen. I (the man of not a ton of baseball experience) thinks that the stupid bullpen needs some serious help. The lame commentators from FSH Ohio gave a pretty good stat last night. In games when the starting pitcher has a "quality" start we have a record of like 31-5. When they don't have a quality record we are like 6-25. That basically says our bullpen SUCKS.
Yes we won last night, but it felt like a loss. We blew a 9-4 lead but that's to Johnny Damon and his hair we were able to pull it out. Manny and Tek both had three run homers. Damon got the tenth and winning run with a solo shot.
Embree and Foulke made pitching look really hard as they let the Indian's right back into the game. I was yelling very loud. I was pissed. The Bullpen needs to get it together.
Wells pitched ok. He got the W but was definitely not as in control as we was last week.
We are now 9 games over .500 and only 2 games behind the O's.
In Yankee news they ended their latest win streak by losing at home to the crappy Devil Rays. Now that's funny.
They say that Schillin is improving and might be a few weeks away from his return. That would be pretty nice.
PITTSBURGH 0 (31-36)
BOSTON 8 (38-30) WON 1
A wacky lineup won a game with a decent amount of offense. Matt Clement pitched another great game. He has been a great pickup to say the least. Ortiz and Payton provided some good offense.
Missed this one, I was at the museum. I haven't watched enough Sox ball lately.
PITTSBURGH 2 (31-35)
BOSTON 0 (37-30) LOST 1
For the first time this season the Sox were shut out. It was the night of the men-left-on-base. We left 11. I watched parts of the game. At one point Payton lead off with a double and then got to third with somebody else on second. No outs. He didn't score. That ain't so good.
PITTSBURGH 5 (31-34)
BOSTON 6 (37-29) WON 5
Tek won this game with a great block at the plate. It was great.
I like 5 game win streaks.

GO RED SOX!